Krümmer Abgaskrümmer Chevy 216cui
Newbie

Mon!
Ich habe versehentlich einen falschen Krümmer gekauft.
Es handelt sich um einen Abgaskrümmer für einen 216cui Chevy oder GMC Motor.
Er wurde in den USA auf Risse überprüft, gestrahlt und 2 Gewinde wurden mit Helicoil-Einsätzen repariert.
Hier der originale Verkaufstext:
Offered is a Very Good Used OE GM Chevy Inline 6 Cylinder Exhaust Manifold, 3835388, installed on 1949-1953 216 C.I. Chevy Inline Six Engines, in passenger cars and trucks.

The production date code is L89 or December 8, 1949.

As you can see from the pictures, this manifold is in very good condition. Both exhaust studs were broken so they were removed and helicoils professionally installed by John at JL Steel.

It was professionally baked, shot-peened and magnafluxed by Bill's Machine Shop in Show Low, AZ. No cracks or welds, the heat riser flap rotates easily. It will need a new thermal spring. I coated it with RustLick 660 to inhibit rusting which is shiny in the pictures, but will soak into the metal in a couple days.

As with any part that is shot peened, be sure you clean this item thoroughly before installation to insure no stray shot ends up in your engine.
Preislich habe ich mir das vorgestellt, was ich auch bezahlt habe: 270€
Bilder kann ich gerne zusenden
Gruß
Martin
---
Fahrzeuge von gsx_martin: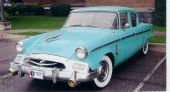 Neue Antwort erstellen
---
Thema Bewertung:
0
von
5
aus
0
Bewertungen